• Government to increase contribution to ECCE Trust Fund to R2 million
As from July 1 this year all registered child minders looking after 6 to 10 children will benefit from a financial support of R5,050 from government to recruit an assistant.
The announcement was made yesterday by Vice-President Danny Faure, the chairperson of the National High-Level Early Childhood Care and Education (ECCE) Committee.
This was during a special gathering organised for the child minders who have recently completed training in national standards established for the service.
Vice-President Faure also announced that as from September 1 all child minders registered with the Institute of Early Childhood Development (IECD) will benefit from a R10,000 grant to allow them to buy furniture, toys and other necessary educational equipment.
But VP Faure noted that government is also making available through the Small Business Financing Agency (SBFA) a loan with favourable repayment terms to improve their facilities at home and create more space for the children in their care.
Above all that, VP Faure announced that all registered child minders will soon get fire protection equipment donated by the ECCE Trust Fund which they will have to set up in their home.
Vice-President Faure also announced that as from next year, government contributions to the ECCE Trust Fund will be increased from R1 million to R2 million.
Child minders, daycare operators can submit projects to be funded through the fund.
During the ceremony the chairperson of the fund, Lambert Woodcock, presented the chief executive of IECD, Shirley Choppy, with a sample of the fire prevention equipment.
VP Faure said these measures form part of effort to continue improving the care and education of small children aged 0 to 3 years.
He reminded everyone present that a study conducted in 2013 to obtain concrete and credible information on child minding services being accessed by many parents around the country discovered 147 child minders looking after some 1200 small children in their homes.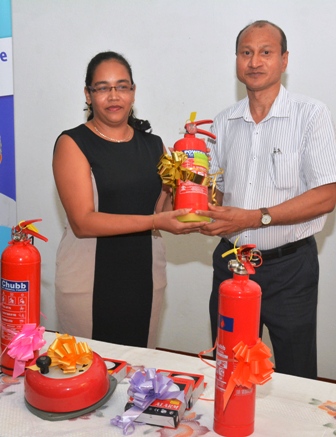 The study also revealed that there was the need to improve and strengthen child minding services especially with regard to health, security, hygiene and raise the level of these to a minimum standard established and this with financial support, capacity building and training.
There was also the need to regularise the service to ensure better care and education for small children.
Vice-President Faure noted that almost all the recommendations of the study have been carried out and others are still in the process of being realised.
"Necessary legislations, structures and mechanisms have been put in place, national standards for child minding based on best practices in the world have been developed, funding has been provided to ensure   necessary human resources are available to support child minders and give them training," Vice-President Faure added.
He went on to point out that an education campaign on child minding standards for parents, other partners and other related sectors was also launched.
At present there are 116 child minders who have been trained in the established standards and soon they will start the process to register with the IECD.
"We want all our small children to have a strong start in life," VP Faure stressed.
The commissioner of public health, Dr Jude Gedeon, gave a detailed presentation on health and safety for child minders.
"A lot is being done to step up child minding standards but it is always good to reinforce them at all times," Dr Gedeon stressed.
On behalf of all child minders Raymonde Jean Louis thanked the government for its continued support.
Source : Seychelles NATION