• Warns of permanent lurking danger on the reefs
''Terrified and in excruciating pain, I thought of death as my body was being drained of all its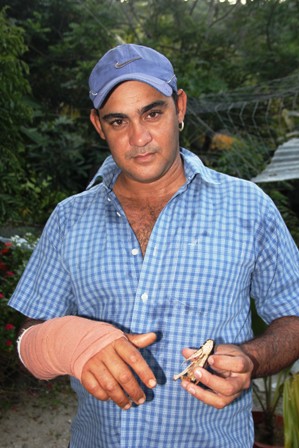 blood through a nasty open wound on my right arm caused when a huge conger fish attacked me," Andrew Godley, a 35-year-old fisherman of North East Point recounts.
He warns other fishermen and sea-loving individuals to always be careful and to be on the lookout for lurking dangers among the reefs.
Like every day, in the early morning of March 14 which was also his birthday, Andrew and two colleagues left for a day of different fishing activities which included hunting for octopus and plucking fish from their fish trap.
That wonderful day nearly became fatal according to Andrew as the huge medium sized and almost a metre-long conger fish tore its way out as Andrew and his two colleagues pulled the fish trap from the water onto their small fibre glass boat to pluck out the fish.
"As it lunged at me I lifted my right arm to fend it off and this was when it bit me in the arm around the wrist tearing a big chunk of flesh, baring my bone and leaving a very ugly wound with nerves and ragged flesh dangling and blood gushing out as it disappeared in the boat," Andrew narrated.
Andrew said luckily they were not far from shore at Machabée.  As he struggled in panic to get to the beach one of his colleagues fell off the boat in fright while the other dashed off ahead of him calling for help.
As Andrew dragged himself to the bus shelter at Machabée he said he felt as if the ground from under his  feet was being pulled away as he started to feel faint and dizzy from the heavy loss of blood.
"I was soaked in blood all over and the pain was terrible as I attempted to reduce the blood flow. Luckily help did not take long to arrive and I was rushed to Glacis clinic where the doctor and nurses there contained the blood flow before bundling me in a waiting ambulance to the Seychelles Hospital," Andrew said.
Two weeks after the near fatality, Andrew is thankful to God and everyone who through their prompt action have saved his life.
"God was really with me on that day and it was not yet my time to die," Andrew, the father of a 12-year-old, pointed out.
Looking at his bandaged arm, Andrew said he can only feel his thumb and forefinger but not the three other fingers.
"My whole arm is numb and as I am right-handed I am now incapacitated and cannot do much for myself. I thank God for my partner and mother who attend to my needs," he said.
Andrew's recent encounter with the conger fish is not his first because miraculously a few years ago a smaller conger fish nearly bit off his thumb from the same right hand.
"It was not that serious and after a few days I was fine," he recalled.
Andrew, who has always been a seafaring person, making a living out of his different activities, is now helpless and is not expected to set foot in a boat for the remaining of the year or more.
"This really frustrates me because I see my friends going down to sea and pursue the activities that I love so much while I have to sit and watch from the beach. I feel terrible as now I have to seek financial support," he lamented.
But in spite of this mishap, Andrew said he is closely following his specialist's appointments and all the advice to ensure the speediest recovery.
He said he is counting the days when he will be able to resume his fishing activities.
Source : Seychelles NATION