Seychelles achieved yet another first this month, when two Seychellois AIESEC delegates proudly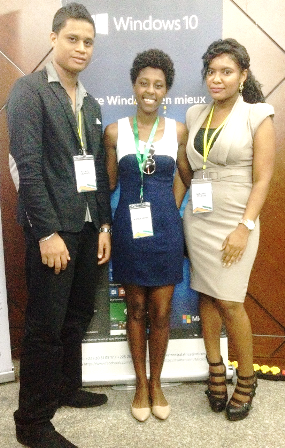 represented the country at the African Exchange Leadership Development Seminar.
The African Exchange Leadership Development Seminar (AFROXLDS) was held from April 4-13 in Dabou, Côte d'Ivoire.
AIESEC (International Association of Students in Economic and Commercial Sciences) is a global youth network that strives to achieve peace and fulfillment of humankinds' potential. With its presence in 126 countries, AIESEC empowers young people to better their communities and develop their leadership skills by learning from practical experiences in challenging environments. AIESEC members are given the opportunity to get involved locally and to take part in a variety of cross-cultural exchange programmes that include volunteering, as well as internships abroad.
Having recently registered AIESEC in Seychelles in August 2015, it was a great honor to have Annarose Clarisse, a third year law student at the University of Seychelles, and Raymus Laurence, an Advanced Diploma graduate from the Seychelles Institute of technology, attend the largest AIESEC annual gathering on the African continent. They were accompanied by Sophie Njenga, a determined and motivated Kenyan who has dedicated two years to not only making AIESEC Seychelles a reality but also enabling it to attain international recognition.
This was clearly illustrated through the statement of Anna Saldarriaga, the president of AIESEC International.
"I'm thrilled at Seychelles' representation at AFROXLDS 2016. You have your national AIESEC president facilitating this conference, as well as two representatives expressing the ideas and potential of AIESEC Seychelles. I am confident that the changes you would like to see in your country can be done through AIESEC and that all the effort you are putting in will be translated into making AIESEC in Seychelles an example to all members," she said.
AFROXLDS attendees took part in discussions concerning the various programmes being developed and executed in their home country, in order to seek methods of collaborating to align these activities with regional needs. Delegates learned of AIESEC operations and strategies that can be implemented in their local realties to ensure that the entire organisation is working in pursuit of helping the world to meet its sustainable development goals.
Equipped with local souvenirs, books and T-shirts kindly sponsored by Seychelles Investment Board (SIB), Annarose and Raymus were privileged to showcase Seychelles' food and traditions in the AFROXLDS cultural event, the Global Village.
Those who took part also attended the Youth Speak Forum, another key platform of AIESEC that turns youth opinion into real world. A forum where inspiration and collaboration convert into action. The Youth Speak report will be released in May, representing the opinions of over 160,000 youths around the world who took part in an online survey, including the opinions of numerous Seychellois youths who kindly joined AIESEC in Seychelles through their involvement.
At the forum, attendees were able to express their views and solutions to various organisations, companies and governments in order to help bridge the gap between youth opinion and decision-making processes.
Upon her return, Ms Clarisse said: "It was a truly enlightening experience. We heard inspirational speeches from fellow AIESEC colleagues and had the chance to network with high end officials from the Ministry of Commerce in Ivory Coast, manager of African Development Bank and business representatives from companies like Microsoft."
Excited as to what impact AIESEC in Seychelles can make, Mr Laurence said: "We should appreciate and seize the numerous opportunities at our disposal. Unlike youth in other countries, we are privileged in that respect and can be active in shaping the reality that we want for ourselves. "
The AFROXLDS reinforced their passion to work together with fellow AIESEC Seychelles' members to launch their first educational tutoring project that aims to help Seychellois students perform better academically.
The delegates would like to express their thanks to their supporters Ethiopian Airline, Seychelles National Youth Council (SYNC), Seychelles Investment Board (SIB), SID Group and Sophie Njenga for founding AIESEC in Seychelles, so that it can be available for youths in Seychelles. They are also grateful to Bogar Garcia, vice-president of AIESEC in Seychelles for joining Sophie on this journey.
Source : Seychelles NATION