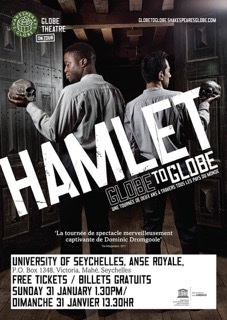 A British theatre group, the Globe Theatre Company, will be performing Shakespeare's play Hamlet at the University of Seychelles' campus at Anse Royale. The performance, which will take place tomorrow starting at 1.30pm, is the latest in their plan to perform the play in every country in the world.
Entrance to the performance is free.
On April 23, 2014, the 450th anniversary of Shakespeare's birth, Shakespeare's Globe embarked on a two-year epic and unprecedented global tour of Hamlet directed by the Globe's artistic director Dominic Dromgoole that aims to take in every country in the world.
The project has been granted Unesco patronage in recognition of the tour's engagement with local communities and promotion of cultural education. It also received the Renee Stepham Award for Best Presentation of Touring Theatre from the UK Theatre Awards and The Stage International award 2015.
This epic and unprecedented endeavour has already travelled over 100,000 miles and reached over 100,000 audience members across Asia, The Pacific, Australasia, Africa, the Americas and Europe. Highlights include travelling to Somaliland to become the first foreign theatre company to stage a full play in 23 years, and performing for free to over 3000 people in Sudan.
About Hamlet:
Learning of his father's death, Prince Hamlet comes home to find his uncle married to his mother and installed on the Danish throne. At night, the ghost of the old king demands that Hamlet avenge his 'foul and most unnatural murder'.
Encompassing political intrigue and sexual obsession, philosophical reflection and violent action, tragic depth and wild humour, Hamlet is Shakespeare's 'poem unlimited', a colossus in the story of the English language and the fullest expression of his genius.
The Globe to Globe Hamlet tour has played to over a hundred thousand people in all corners of the world – in theatres, temples, public squares and refugee camps – sparking discussion and joy wherever it goes.
Source : Seychelles NATION