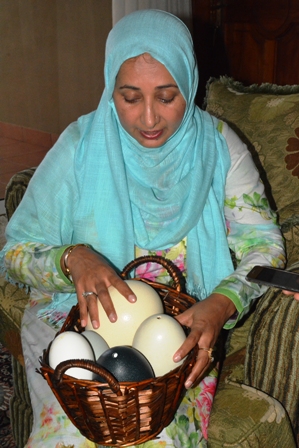 Farha Sayeed creates fascinating egg decorations using eggshells from various bird species such as emu, rhea, ostrich, goose, turkey, duck, guinea and hen.
Each piece is unique and the inside of the egg shell is beautifully decorated by hand with different silk while the outer layer is decorated using pearls, beads, brocade, velvet, satin and rhinestone chains.
The eggs are cleaned, disinfected, intricately cut, carved and decorated which arouse curiosity and wonder in art lovers. Seychelles NATION visited Mrs Sayeed, who is the wife of the Indian High Commissioner to Seychelles, Dr Ausaf Sayeed, to learn more about her passion for this form of art.
Mrs Sayeed, who holds a bachelor's degree in English Literature, developed an interest in egg decoration 18 years ago.
She has been interested in arts since she was a child and has been involved with silk paintings, charcoal, painting, glass painting and aluminium foil art work as well.
She gets her eggs from numerous countries such as USA, UK, Austria and even African countries.
All eggshells used for artistry are unfertilised eggs of domestic farm grown birds, which are procured from reputed hatcheries from across the globe and are hardened using acrylic gesso.
The final creations are varied in terms of carriages, cups, jewellery boxes, walk-in clocks among others.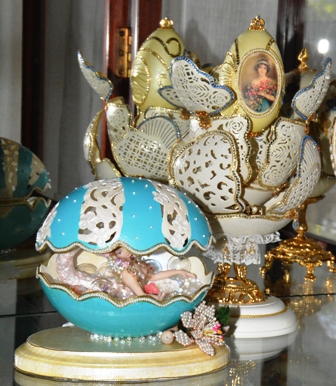 Her last exhibition was held in Chicago last year and she has featured in various arts exhibits across the world in countries like Saudi Arabia, Lebanon, Iran, India, Pakistan, India, Malaysia, Yemen among others.
Mrs Sayeed even hosts lectures on egg decoration.
Commenting on some of the work she creates, she said she enjoys how unique this form of art is and the authenticity of her work.
"The beauty of this work is that you will never find two pieces alike since it is handmade, as I could not recreate even the same piece," she said.
Although she has been practicing this art for 18 years she feels there is a lot more to learn with this art form.
"This art needs a lot of patience, concentration and imagination so if you do not have patience then this art is not for you," she said.
She is looking into the possibility of hosting an exhibition in Seychelles very soon and she hopes that Seychellois will like her exotic collectibles.
Source : Seychelles NATION