A group of 150 disabled youths accompanied by their parents and teachers were the special guests at Eden Bleu Hotel yesterday morning as they filled the conference room with their chatter of excitement and laughter.
The entertainment-filled fun day was organised by the Seychelles National Youth Council (SNYC) as part of activities to celebrate the Youth Festival.
''Organising such activities for this special group of young people aims to show that we appreciate them too and will always provide them with the support they need," SNYC chief executive Alvin Laurence said.
Partaking fully in the entertainment is also an opportunity for this group of special youths to meet and appreciate each others' talents, make new friends, have fun and spend quality time together.
Several guests among whom the principal secretary for youth Fabian Palmyre, the chief executive of the NCC Jean Claude Matombé, Bishop Emeritus French Chang Him to name but a few had come to appreciate the talents of this group of special youths and share in their joy.
Well-known and much appreciated blind singers Cecile and Brigitte Lablache, Thomas Knowles, Robert Chetty sang some of their songs live to the special guests' joy.
Bishop French blessed everyone present with a special prayer and had words of gratitude for the SNYC staff and all those who have joined hands to make the activities as fun as possible for the young people.
On the programme were poem recitals, songs, role plays testimonies … everything to ensure the disabled youths have the opportunity to showcase their talents.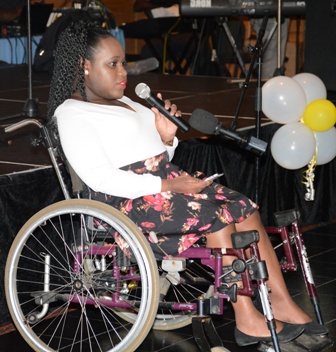 In the lobby outside the conference room of the hotel a variety of handicraft work as well as paintings made by the young people were on display and both visitors staying at the hotel as well as guests attending the event could appreciate.
Eden Bleu Hotel's food and beverage manager Monias Kufa said it was really with great joy that the hotel hosted the group of special guests.
Mr Kufa said he was really amazed at the amount of energy and devotion the team who prepared the event put in their effort. "You guys are really lucky and you can do amazing things and Eden Bleu is really very proud and happy to be part of the initiative," Mr Kufa said.
Other than providing the venue for the event free of charge the hotel also provided sandwiches and a variety of mouth-watering snacks and juices.
Beryl Dodin, the coordinator of the event, expressed heartfelt gratitude to the hotel management for accepting to host the special guests and the fun day activities which have been very much appreciated.
The special guests of Eden Bleu spent yesterday afternoon dancing away to the music from a live band.
The accompanying photos show some of the highlights of the day.