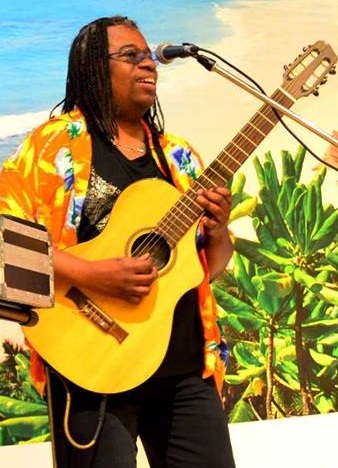 Retourn Ek Li has become a hit with the locals but many people, especially the youngsters who by now know the lyrics by heart, don't know who the author of the song is.
Judging from the song's success, it is safe to say that Stephen 'Elijah' Eliza, who is well-known for his reggae love songs, has done a great job reviving the Retourn Ek Li song this year, 32 years after Emmanuel Marie released it.
Asked how he feels after his song has known a lot of success lately and reaching number one, Marie replied: "As you have probably realised, the song was revived by Elijah whom I gave permission to re-do it. I am very happy that the song made it to the top, since the song was written and composed by me while I was only 20 years old".
He added that he has already done two versions of the song in the past, "and now finally a reggae version by Elijah which was released early middle of this year".
Famous for his many hits such as Mesaz Mon Dalon, Tile Mone, Retourn Ek Li, Michelle, Lib Alafen, Marie has been staying and performing in Dubai for the past 19 years.
"I moved to Dubai 19 years ago because I had a contract with a group who lives there so I could work exclusively for them. That means, I was their personal entertainer wherever they go, and make their get-together, parties, celebrations, etc. So, I covered around 15 countries travelling with them for this particular work. But after a while, I got tired of entertaining the same people only in different places. So, I decided to stay in Dubai and work locally like I used to do in Seychelles. Nineteen (19) years later, I'm still doing the same thing," Marie told Entertainment NATION.
He added: "Currently, I'm performing every night here in the United Arab Emirates in various night clubs, hotels, and other venues. I am also helping other artists by recording their music here in my home studio, and giving guitar lessons to children".
The 52-year-old Seychellois entertainer, who has been a member of local bands like Night Shades, Beginners and Tropics before moving to Dubai, also revealed to Entertainment NATION that he hopes to release an album by early 2018.
"Right now, I am half-way through a new album which I started early this year. But due to health reason, I had to stop working on it and get my health back, and hopefully by the grace of God, I should be able to release it early 2018. On this album, I am planning to revive all my older songs which were hits in the '80s, '90s, and today, plus many new songs which I will introduce a few foreign musicians who are living here in Dubai," he said.
When asked to give his views about the level of music in Seychelles now compared to when he started, Marie stated: "Obviously, there has been a huge change in Seychelles' music since the computer age is matured so everybody can have their own personal studio. The young talents don't have a barrier to do whatever they want because they don't need producers. So that means, the explosion of talents will happen. They still need to be guided though because our local tradition is getting lost, but in time, the best will always come out and people will have a choice".
"As I said before, the computer age is really matured and wherever you are now in the world you can get access to the internet, so that means I'm always up to date with what's happening in Seychelles through our local radio. To mention a few, Paradise FM and our local AM radio (Radyo Sesel). My favourite programme I watch regularly on Youtube is called KOZ KREOL," added Marie.
When asked if he has plans to invite Seychellois musicians to perform in the UAE, thus giving them the opportunity to make themselves known to the outside world, Marie said: "Unfortunately, it's not easy as it seems because Dubai has a rule for foreign entertainers to go through permissions and other legal paper works just to be able to do one performance here. So, all these legal procedures have to be done through the people who are organising the special performances. In my case, even though I'm a foreigner here I hold a working residence (visa) and I still need to be permitted to work in other places where I am not contracted. The best way to get local artists to come here for exposure is through our embassy which we do at least three times a year where I get to perform with them also. Just to state an example, I just actually did a mini Creole festival show which was held in Abu Dhabi on October 26, 2017 with Jean Quatre, our local saxophonist".
Source : Seychelles NATION