Rising Jamaican star Demarco is set to perform in Seychelles on September 2, 2016 at the mini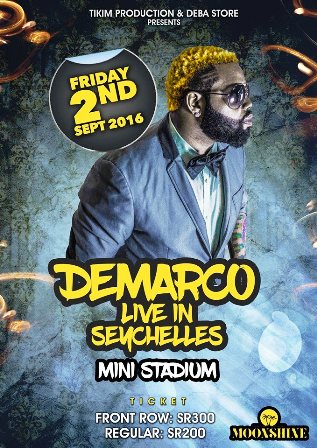 stadium in Victoria.
Thirty-three-year-old Demarco, whose real name is Collin Demar Edwards, will be performing in Seychelles for the first time in a gig that has been put together by local artist  Elijah (Stephen Eliza) and Deba Store with the support of Moonshine.
Demarco represents the refined cream of a modern crop of Jamaica's most skilled and talented music practitioners. He embodies a new age of cutting-edge artistes, whose ability to intertwine song writing with music production, engineering, and performing, and whose capacity to use these skills seamlessly between Dancehall, Roots Reggae, Hip Hop, and R & B, makes him in constant demand in one role or another.
MCollin 'Demarco' Edwards is dancehall's young multi-talented genius. According to Demarco, he has been drumming beats and rhyming lyrics from in his mother's womb. And, from the moment he entered the world 33 years ago, music has been his burning passion.
Demarco's charisma has endeared him a loyal fan base in Seychelles and he is fast becoming one of the most widely received and passionately influential artists on his day.
Elijah stated that they decided to bring Demarco to Seychelles due to the fact that he is a popular artist among the youths and the middle-aged.
"Dancehall music is really popular in Seychelles; the youths really enjoy such music.  Anywhere you go, you can hear Demarco's music playing in nightclubs, parties," he said.
Born in Portmore, St. Catherine on September 28, 1982, Collin 'Demarco' Edwards is a past student of Ardenne High School, where his passion for music led him and his schoolmates to create their own sound system, Future Disco. The young teen became a staple at almost every community event in Portmore and, by age 15, he would perform at the world-famous Cactus nightclub every chance he got, earning his stripes.
Demarco has toured extensively, including multiple visits to Africa, performing in Ghana, Uganda, Kenya, Zimbabwe, Tanzania, and Guinea.
He is best known for his hit singles such as 'Lazy Body', 'Puppy tail', 'I Love My Life' and 'Fallen Soldier'among others. Demarco has received a lot of air play for such popular songs.
Tickets for the show are already on sale, front row R300, regular R200.
Since the beginning of the year Seychelles has welcomed so many international artists such as Charly Black, Konshens among others.
Compiled by U. J.
Source : Seychelles NATION