The Indian Association of Seychelles has launched its third photography competition which starts on August 20 and will go on until September 25, 2016.
This is the first activity for the fourth Seychelles-India Day (SID) which will take place from October 14 to 16.
Details of other proposed activities would be communicated in due course.
The vision of the Seychelles-India Day 2016 organising committee is to get the people to capture the beauty of 'Paradise Seychelles' and 'Incredible India'.
The theme for the competition is 'Incredible India in Paradise', the same as for the two previous years.
"We believe in the continuity and brand building of all activities of Seychelles-India Day is very important," a spokesperson for the organising committee said.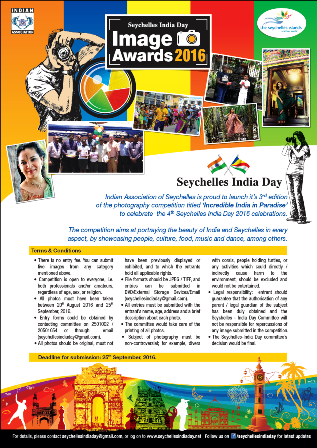 He said the main aim is to portray the beauty of India and Seychelles showcasing people, food, music, dance, sports and culture.
"This will help to promote the bilateral relations between the two countries," he added.
The competition is open to professional and amateur photographers.
Registration forms can be obtained by emailing seychellesindiaday@gmail or contact
2501054/2501021/2501021/2501014.
Photos must be in JPEG/TIF format submitted on CD or DVD/external storage device or mail mentioning the participant's name, age and address with a brief description of the photo taken.
Forms will be made available on www.seychellesindiaday.net which can be printed.
The organisers are urging all children, students and the youth in general who are aspiring to be photographers of tomorrow to come forward and take part in this event.
"Today everyone can operate cameras, mobile phones etc and with today's latest technologies we can all take part," he said.
Source : Seychelles NATION