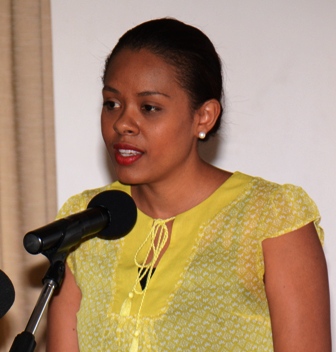 Partners in the tourism industry are learning how to make more efficient use of online technology to market their business.
They are doing so through a two-day digital marketing and social media strategy workshop being held at the Seychelles Trading Company's (STC) conference room.
It is aimed at teaching the trade partners how to maximise their ability to make the most efficient use of digital marketing platforms and use practical tools and tactics to revitalise their social media strategy and align it with the latest landscape.
The two-day certified workshop, a first of its kind to be held here, has been organised by the Seychelles Tourism Board (STB) under the leadership of e-marketing manager Vahid Jacob.
In her opening remarks yesterday, the chief executive of STB Sherin Naiken said although the product is still very much the same, there are two things that are fast changing – the trends and the choices of our guests as well as the various media they can be reached through.
"Once upon a time, our hotel submission had no choices but to depend on the companies specialised in selling destinations to market their products. Today the same operators have choices and the ability to reach their clients through their own means without having to use an intermedium. They have the ability to monitor the trends themselves and adapt to the right strategy to capture the interest of their clients. The digital world has revolutionised the way our destinations are to be marketed. It is no longer business as usual," she said.
The tourism trade partners have been requesting such a training for over a year now as this would enable them to keep up to date with the latest online marketing methods and keep their establishments and companies visible online.
The training session is being led by Damian Cook, the chief executive and founder of E-Tourism frontiers, a recognised social media expert with more than 10 years of digital marketing experience.
"It's about helping the industry understand the shift that's happening that is being driven by online technology especially social media when it comes to how they market their business and how important their customers have become now that the people who are travelling to the Seychelles are using social media to talk about their holidays, their trips, share their photos and experience and what a huge marketing opportunity that is for them and how they can better make use of that." Mr Cook said.
This workshop offers a guide to the variety of online tools available and how one can start making use of them.
The workshop is covering social media strategies such as using social media platforms to better market one's establishments online, for example Facebook, Twitter, Google+, Linked In, Pinterest and Youtube  and using social media targeting case studies and success stories.
The partners will be educated on search engine optimisation which would enable them to make their websites and blogs appear or be found on search engine sites such as Google and Yahoo.
The programme also includes website design and responsive websites and content creation.
Present at the launch were the principal secretary for tourism Anne Lafortune, hoteliers, tour operators, operators of tourist vessels, key officers and partners in the tourism industry.
Delegates are expected to receive their certificate at the end of the workshop later today.
A digital marketing and social media training for STB staff was also held on Wednesday this week and they were trained on how to maximise their ability to make the most efficient use of digital marketing platforms and enhance their knowledge of social media.
Mr Jacob said another workshop will be held for the Indian Ocean region in May or June this year.
Source : Seychelles NATION