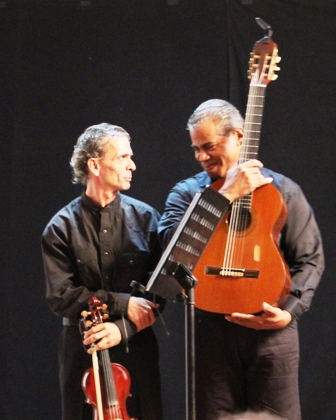 A delightful recital was staged last weekend at NCPA's Théâtre des Palmes at Mont Fleuri. The admission-free concert mostly for invitees was an evening well spent.
Titled 'Light Strings', the concert on Saturday April 30 by François Victor and Luigi Ghiani, guitar and violin teachers at the NCPA's School of Music, was the opportunity for them to show off their fabulous skills as musicians.
We have been waiting for quite a long time to hear something completely different — very delicate and sophisticated — played by our own music leaders.
Well, I do not want to jump the gun here and go straight to the point but we do not get the pleasure often to see on our relatively small islands something classical, to be precise, Argentinian, Andalusian and Spanish-tinted classical music pieces.
François Victor and Luigi Ghiani had the pleasure to perform before British High Commissioner Caron Röhsler, principal secretary for Culture Benjamine Rose, director of the NCPA Pierre Joseph, head of the School of Music Jerry Souris, the director of Alliance Française Laurent Jalicous and some of the crème de la crème of Seychellois musicians like Patrick Victor, David André, Benet Accouche among others.
The evening started with a lovely selection of support performances. Sir François' youth guitar ensemble consisting of his students – Mary Chang Pen Tive, Jade du Preez, Vinuja Gamage Don, Parrik Dang-Kow, Shariq Lespoir and Jefferson André – opened with 'Smoke On The Water' by Deep Purple, followed by Queen's 'We Will Rock You' and a traditional Sega. It shows that the regular performances of the ensemble are strengthening them and they are growing in confidence.
The same thing is wished for the newly created violin ensemble that followed. It consists of youth and adult players like Moira Hoareau, Shujatha Chettiar, William Alphonse, Ema Balette, Miriam Estico, Marie Pharce, Elvis Ernest (viola) and Domenic Balette on cello. The students played a Minuette from Mozart and a tradional Walz.
Ocean Sounds, the adult classical guitar ensemble consisting of Alisha Ernesta, Jean-Claude Lajoie, Ranjith Mathararchichi, Marc Nicholas and François Victor showed their finger-string- plucking skills to Thierry Tisserand's 'Couleur Tango' and to 'Annou Retournen' from Georgie Romain. The music arrangement was by François Victor.
After a socialising intermission of 10 minutes with drinks and snacks, the audience was led to the main attraction of the evening – the passionate string playing under the name VIOTAR, the true essence of romantic music on strings.
The two string magicians were warming up on 'Tango Choc' with arrangements of Astor Piazzolla. It gained in strength by the end of the first piece but as soon as the second, the 'Fandango', with arrangement from Enrique Granados began, it was spellbinding. The magic was on. The audience was delighted, the passion and fury that sparked from that piece played so superbly let the audience note for note salivating for more.
The two musicians – François Victor on classical guitar and Luigi Ghiani on violin – were in sync, a perfect dialogue. Their dynamic interpretation further showed in 'Calambre' another piece arranged by Granados and followed by a soothing Pablo de Sarasate arranged by 'Playera' and 'Romanza Andalusa' which showed their passion for music with strings – skills they have mastered so professionally.
For all present, it was a joy to hear music known throughout the world on our own home ground.
Reviewed by Irene du Preez