'Better to be blind and intelligent than to have sight and be stupid and ignorant'
 She can only be described as an extraordinary young lady, a tower of strength, courage and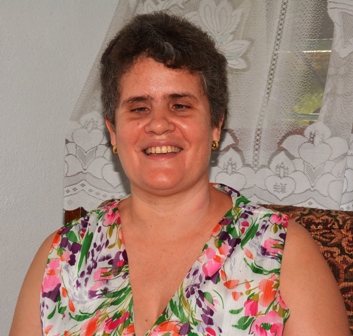 laughter, someone who loves living life to the fullest and who finds great joy in helping others. She is no other than Brigitte Lablache, a young lady who was born with little sight but gradually lost it completely as she  grew older as a result of a condition known as Retinitis Pigmentosa.
May people will still recall the time Brigitte, her sister Cecile and brother Hans together with the likes of Thomas Knowles and Robert Chetty were takingthelocal music scene by storm in the late 70s and 80s with their hits in the musical band Blind Faith.
Hans, Cecile and Brigitte – three of the seven children of the Lablache family – were born with this eye condition for which there is no known cure up to now.
Earlier this year Brigitte, who had been a civil servant for 27 years working as a telephone operator previously with the Ministry of Employment then with the Department of Culture, decided to leave the job she loved to move on to do something she had always dreamed of doing which is giving advice to and supporting other people using her own life experiences as a blind person.
But how is she getting along with her new project? Meeting her at her family home at Pointe Conan last week Brigitte was excited and eager to talk about the things which keep her busy and occupied day in and day out.
It was in February that Brigitte left her job.
"I loved the job I had been doing for so long but I wanted to do something new in my life, something I had been thinking about for a long time and I felt I was ready and it was the right time to go," Brigitte said as she greeted and welcomed me into her house.
"I believe things always happen for a reason and for a long time I have been pondering and weighing the decision but it was not the right time then," she told me.
"I always wanted to do something for the community, to devote myself to helping the more vulnerable and bring joy to their lives by talking to them, giving them support and advice on different issues in their lives but I could not do so because I was fully committed to my job but now I have time," said Brigitte who, in spite of her own disability, refuses to let that be a barrier.
Brigitte said she will always cherish the wonderful moments at work and all the people she had met and interacted with.
She recalls the years at work when she memorised more than 150 phone numbers and even passed on some of her telephone operation skills to some of her work colleagues.
Brigitte is helping a lot of people individually by talking to them through the phone, text messages and emails and Facebook. But she also shares her experiences, skills on different values by talking to groups of people in organisations when she receives any requests.
So far other than individuals, she has talked to a group of nurses, gave a presentation during a ceremony organised recently by the Seychelles National Youth Council to launch the value for the month of August, which is 'Understanding'.
"I believe there has always been something in me like a sort of inner calling urging me to put myself fully to the service of others," she said.
"You cannot imagine how happy and fulfilled I feel after I have succeeded in helping someone solve a problem, boost a person's moral through some words of encouragement and some advice," she pointed out.
"Anyone who feels in need of some form of support or advice on any  issue which they feel is bothering  them or they just want someone to listen to them, they can always reach me on 2572588,"  said Brigitte.
Since featuring in the Bonzour Sesel morning show recently, the number of people who have called her for advice on anything in their lives has increased considerably. Brigitte also interacts with other blind people from abroad. She regrets that blind people locally do not have an association through which they could come together.
"Blind people as well as parents who have children who are blind and are finding it difficult to cope can also get in touch with me so that we can talk," said Brigitte.
"The people I talk to like it when I share their problems. It really makes me happy when I can bring some happiness to others. I also send general messages on Facebook but I chat one to one with them privately through Messenger," she added.
All that she shares with others are her own life experiences. Now aged 48 soon to be 49, Brigitte has been blind all her life but the important thing is she has adapted very well to her predicament and she considered herself an independent person in regard to choices she makes in her life. She can move freely in and out of the house, does her house chores and many other things but she admitted that her condition poses certain limitations thus the need for other people's understanding and support.
She is thankful to government for the support of a carer who comes everyday to help Hans and herself with anything they cannot do. Marie-Anne Dupres, a resident of the district, not only works for them helping them around the house but has developed a close bond of friendship with Brigitte and her brother as well.
She has been working for them for over a year now.
 Education and skills
To be blind at the time that she started her schooling was not easy for her. She attended crèche at St Elizabeth, primary at Ste Claire but it was difficult as she could not see and felt she was missing out where writing was concerned. Enrolled for private lessons, she learned Braille Grade 1.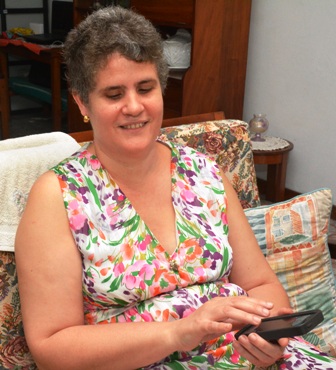 "It was hard for me to begin with but I have always been a determined person and through perseverance I made it. I learned to read and write using braille," she said.
In 1985, through a sponsorship of the Rotary Club, Brigitte followed telephone training in Bombay, India at an institution for blind people and over a period of 10 weeks she also completed Braille Grade 2 training and this she said further boosted her confidence and reading skills.
Over the years Brigitte has continued to improve her knowledge through reading and interacting with people.
While in employment Brigitte followed basic computer training and this was in Mauritius a few years ago.
"I was really excited and I did not find it at all difficult because I was so keen to learn but this does not mean that I am a computer genius; I just know enough to help me in what I do," Brigitte said confidently, noting that continuous use has considerably improved the speed with which she types.
With her thirst for knowledge Brigitte has remained well updated and abreast of technological development for blind people. Other than using braille for reading, Brigitte can easily use a laptop computer and an Iphone and these through special software installed which allow her to manipulate the devices to stay connected not only with friends and family but with all the people she interacts with on a daily basis.
 Need for more support and understanding
While Brigitte expresses deep gratitude to society for all the help and support blind people receive, she still believes that people and communities can do more to better understand them.
"A lot of people treat us good and very well but there are still those people who believe that because we are blind we are stupid, ignorant and we cannot think for ourselves. But I can assure them that it is best to be blind but intelligent than to have sight and be stupid and ignorant," Brigitte stressed.
She is of the view that society still requires a lot of education to better understand blind people as well as people with other disabilities.
Considering herself as a courageous and brave person who can easily adapt to different situations, Brigitte has learned to overcome all forms of fear and anxiety through her trips abroad alone. She has travelled a lot to Australia to visit her sisters and other family members. She receives the necessary support when she transits through different airports and this is how she can compare the quality of help and support she has received.
Brigitte lost her father eight years ago and mother two years ago and she is still grieving the loss of her mother.
"I have never known so much pain and great loss. The death of our mother has been a great blow to us and has left a great void in our lives," she said.
She said other than teaching them all the great values of life, her mother used to travel with her but now that she travels alone many people believe blind people should always have a chaperon which really shows that they require more education.
 Future plans and past time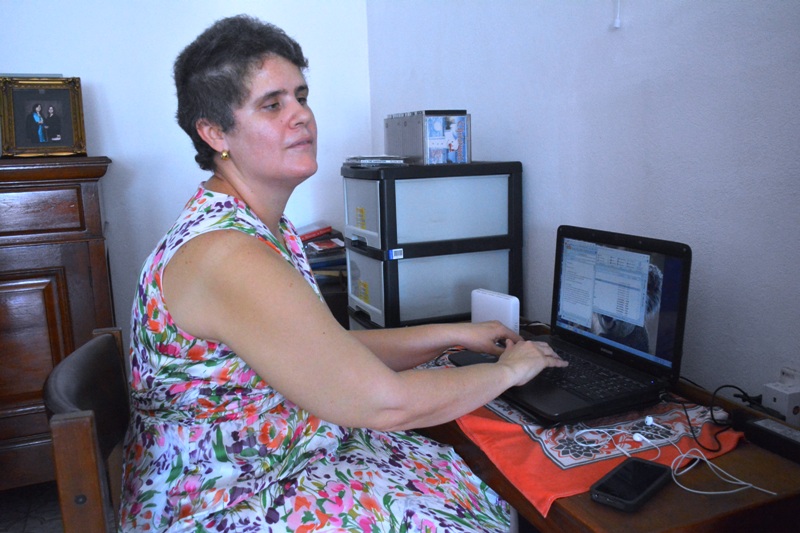 Brigitte said she plans to continue doing what she is doing and enjoys doing. "I believe God is the one who will decide otherwise because everything I do I sincerely believe it is God's will and He is the one who guides me and my plans."
Brigitte has long been known for her love of music, singing and playing the guitar, something she learned at the age of 11. Today, though not in a band, she still loves singing and listening to music.
She also likes reading the Bible, a good romance novel from time to time as well as detective stories.  Brigitte always keeps herself updated on local and international affairs by listening to the news.
She did not fail to share her love for local Creole dishes especially grilled fish.
Expressing heartfelt gratitude to her brother, not affected by the RP, who lives next door, Brigitte said she is thankful for his support and devotion.
"He often drives us around and we want to let him and his family know that we are really grateful."
Brigitte availed of the opportunity to express sincere gratitude to the Minister for Tourism and Culture Alain St Ange and principal secretary Benjamine Rose as well as all the staff for their support and encouragement throughout the many years spent working for the ministry.
By Marie-Anne Lepathy
Source : Seychelles NATION