'Work together to ensure peace, safety, stability continue to reign in Seychelles'
We to work together to ensure that, peace, safety and stability in all its forms continue to reign in our beloved Seychelles,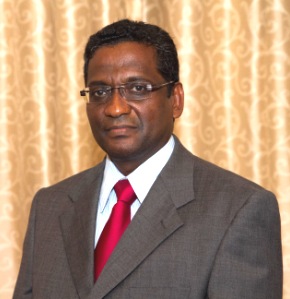 Home Affairs Minister Charles Bastienne has said.
The minister said this in his message to all police officers on the occasion of this police week which starts today.
'Earning your trust in keeping you safe for the love of Seychelles' is the chosen theme for this year's police week. According to Minister Bastienne, the theme reflects the tremendous effort and work being undertaken by police officers to earn the public's trust by improving on service delivery and standard of professionalism.
Mr Bastienne said since he took his oath as the Minister for Home Affairs in February this year, he has stressed on the importance of earning your trust in order to ensure that we have an effective and proactive police force. He adds that it is also fitting that the launch of the police week coincides with the international peace day which is commemorated on September 21, 2015.
"This emphasises the need for us to work together to ensure that, peace, safety and stability in all its forms continue to reign in our beloved Seychelles. These are part of our basic rights as citizens," said Minister Bastienne.
He noted that many countries across the globe cannot enjoy such privileges and rights as we do; adding that we see it every day in the news.
"We need to be proud as a nation that we can enjoy such privileges thanks to our police force. They contribute towards the safety on our streets and communities. I am aware that there is still room for improvement in that area and we will continue to strive for a safer Seychelles," he further added.
On this note the minister commended all police officers for their efforts, time, hard work, devotion and commitment.
"I commend all men and women in uniform who demonstrate great passion for their job and who are ready to make the necessary sacrifices, such as to leave their homes to work on the outer islands or to leave their own families alone at night to guarantee public safety. Your profession is a very demanding one, but it is also a noble one which is of great importance to society. As agents sworn to preserve peace we must ensure that we continue delivering to the best of our abilities and to make a difference," said Minister Bastienne.
To make that difference, the minister said the police are taking steps to modernise their operation and to stay ahead of recent developments in criminal activities through the following:
– Purchase of new equipment and fleet of transport;
– Re-launching of the Marine Police Unit;
– Introduction of refresher courses at the Seychelles Police Academy for all our officers;
– Improved response time;
– Construction of two new stations at Anse Aux Pins and Grand Anse Praslin which are to start soon;
– Renovation of Mont Fleuri Police Station;
– Negotiations are underway for the realisation of the DNA and forensic facilities;
– Decentralisation of CID.
– Re-enforcement of the community patrol, among many others.
"All these new approaches are bearing fruits as the crime rate is now at its lowest ever. Statistics from the police force show that since February this year, we have seen a gradual and substantial reduction in crime. At the beginning of this year we were registering an average of well over 130 crime cases per week but for the last four weeks the police have recorded a crime rate of below 90 per week. This is also an achievement and we owe this crime combating achievement to our men and women in uniform. With all these developments we definitely need the nation's trust and help to continue to safeguard and protect our beloved Seychelles, so that it becomes even safer," concluded Minister Bastienne who wished all police officers a happy police week.
Source : Seychelles NATION