• Calls for Seychelles people to show grandeur d'esprit
 Seychelles' founding President Sir James R. Mancham left Seychelles yesterday evening for New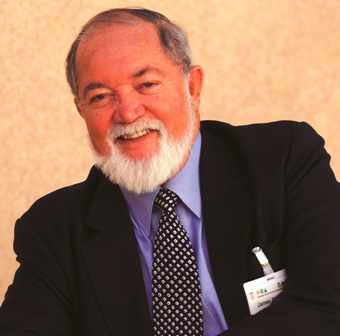 Delhi, India where he has been invited to take part in a top-level dialogue styled the Raisina Dialogue being hosted in New Delhi by the prestigious Observer Research Foundation in association with India's Ministry of External Affairs.
This dialogue is India's flagship conference engaging with geo-politics and geo-economics. It is designed to explore and examine the prospects and opportunities for Asian Integration as well as Asia's integration with the larger world. It is predicated on India's vital role in the Indian Ocean region and how India along with its partners in the region and beyond can build a stable and prosperous world order.
The 2016 conclave will focus on Asia's physical, economic, human and digital connectivity and will attempt to discover opportunities and challenges for the region to manage its common spaces as well as the global partnerships needed to develop common pathways in this century.
The inaugural dialogue will be hosted between March 1-3 this year and besides Sir James the inaugural panel consists of Sunjoh Joshi, Director Observer Research Foundation, India; Dr. S. Jaishankar, Foreign Secretary, Ministry of External Affairs, India; Smt. Sushma Swaraj, Minister for External Affairs, India; Hamid Karzai, former President, Afghanistan; Chandrika Badaranaika Kumaratunga, former President, Sri Lanka; Abul Hassan Mahmood Ali, Minister for Foreign Affairs, Bangladesh; Ashok Malik, Senior Fellow, Observer Research Foundation, India.
Other VIPs taking part in the conference include Admiral Harry B. Harris Jr., Commander of the US Pacific Command; Jacob von Weizsacker, member of the European Parliament, Germany; Li Zhaoxing, former Foreign Minister, China; Hideaki Domichi, Senior Vice-President, Japan International Cooperation Agency; Dr Hung-mao Tien, President Institute for National Policy Research, Taiwan; Peter Tan, Deputy Secretary, Ministry of Foreign Affairs, Singapore; Helga Zepp, head of Schiller Institute, Germany; Vyacheslav Nikonov, member of Duma, Russian Federation; Ding Guorong, Senior Vice-President, Silk Road Fund, China; and Shashi Tharoor, member of Parliament, India.
From Delhi, Sir James will fly to Hamburg, Germany to take part in the 9th World Future Council Annual Meeting which will be focusing on identifying policy solutions for a world of growing disorder and crisis. Sir James has for some time now been an Honorary Councillor of the World Future Council.
From Hamburg, he will be flying to Baku, Azerbaijan to attend the 4th Global Baku Forum which is being hosted by the Nizami Ganjavi International Centre of Azerbaijan in association with Le Club de Madrid which is an association of over 70 former Heads of State or Prime Ministers of democratic nations. The 4th Baku Forum focusing on a multipolar world will discuss the global challenges of today and what we need for tomorrow to tackle most pressing issues.
From Baku, founding President Mancham will fly to London where he will be a VIP guest at The Economist's Sustainability Summit which will take place between March 15-16 and where he will join more than 200 global stakeholders – from government ministers to investors and next generation leaders – to shape the new sustainability dialogue.
This major event will explore the emerging global agenda of the anthropocene where environmental and social sustainability intersect with economic prosperity. It will highlight the key shifts in good policy and practice needed to bring about a sustainable future as well as those innovators who are helping to recreate the world.
Sir James is expected back in Seychelles on or about March 18.
In a statement issued yesterday before leaving for New Delhi, founding President Mancham said that the ongoing partisan tensions prevailing in Seychelles at this time is very much a reflection of a world in turmoil. "As we know most of the recent elections in supposedly democratic nations in Africa and elsewhere have been contested by the losing party."
"Yes," Mr Mancham said, "the world is in a state of turmoil. In the Pacific area China's initiative in building of "islands" in the South China Sea has become a source of concern for neighbouring nations. The Australian policy vis-à-vis the boat people is seen by many nations as going against international human rights. Europe is facing a big crisis concerning the plight of illegal immigrants. The United Kingdom is asking its people to answer a question which could totally alter the standing of the UK on the world stage in future – Do we remain part of Europe or do we get out of it? The Middle East is of course in a mess. The images we see of Syrian cities are enough to make us realise the disastrous effect of civil war and other wars. In South America, the population is being menaced by mosquitoes in a manner never seen before, and indeed the stories which have come out of the campaign for the Presidential election in the US are frightening from many standpoints. It is therefore important that we in Seychelles stay cool and appreciate our blessings. For my part, I will continue on my mission to assert that while our country may be small that does not mean we are small people. Along this road we must therefore be able to look at our situation with a high sense of grandeur d'esprit and count the blessings which have come our way."
Source : Seychelles NATION