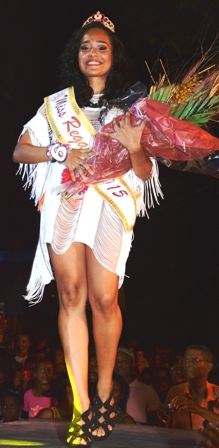 Emily Albest has been crowned Miss Regatta 2015, succeeding Yasmin Ghislain who has been holding the title for the past year.
Emily, 20, is from Baie Lazare and she is a student at the Seychelles Tourism academy (STA) following the Advanced Diploma in Hospitality Management (ADHM) course.
The Miss Regatta beauty contest was held on Friday night at the Regatta venue at Beau Vallon. But unlike previous years, it was this year organised as a non-paying event on an open-air stage where hundreds showed up to give their support to the 12 beautiful and talented young ladies.
The contestants had to parade in casual wear, swim wear and evening wear.
Besides Emily of course, the five other girls who made it to the final stage of the contest were Elna Panagary, Stephanie Dookley, Tarrah Andre, Nahil Accouche and Natanielle Cedras.
Tarrah, 19, was voted first mermaid while Elna, 23, clinched the second mermaid title.
This year's Regatta fundraising event is the 42nd hosted by Round Table Seychelles (RTS).
Asked how she felt to be the winner of the pageant, Emily answered:
"I am very happy. I was not expecting to win and to be honest we all had the potential and qualities to be the winner so I did not see this coming."
As to why she thought she scored more points than the other contestants, Emily said she did not know how this pageant is judged but she believes that her personality outshone that of the other contestants and that's why she won.
Asked how the title will change her life, Emily replied: "It has already changed my life and I never expected I would be so proud. This is the proudest moment of my life and I will always cherish this moment."
She said her future plan is to work in partnership with Round Table Seychelles to help with charity events in any way possible to contribute towards the less fortunate in Seychelles.
Source : Seychelles NATION