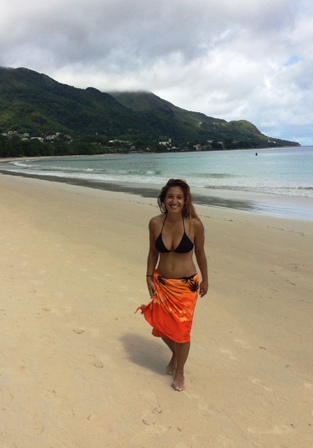 Seychelles is definitely a dream place to visit for many. Among the thousands of visitors yearly, there are many who are backpackers and pass through Seychelles in the quest of travelling the world. By chance, Seychelles NATION had an encounter with a young lady, Yeshua Risgalla, at the airport looking for direction to her guest house for a couple of days. After a few chats, we discovered she had a far better story to tell.
Seychelles NATION (SN): Please tell us about yourself?
 Yeshua Risgalla (YR): I am an only child from Sydney Australia. My mother is Filipino/Spanish and my father is Egyptian/Italian. I had lived in the Philippines a few times during my younger years and was sent there to study when I was 11 years old. That is where my independence started. My passions are music, fashion and entertainment. Crazy enough I love the celebrities and the magical world of Hollywood. I tried to work in the industry when I was living in Vancouver, Canada, and NYC.
SN: How many countries have you visited so far?
YR: Travelling? Well I've been travelling since I was 21… I started on a world trip around solo and that was where I got my first taste of exploring the world and got the travel bug. I went from America to Europe and ended in Thailand within six months. Since then I have made it my mission to go overseas on a yearly basis which I have done for the past 10 years.
I have been to 200 cities in the world in 35 countries… I have reached my goal in hitting 200 cities in the past 11 years of travelling. This trip I went to Africa and Seychelles. I wanted to explore new places and not always visit America like I normally do. I have a link of the countries on Facebook :
https://apps.facebook.com/tripadvisor/?open_graph&story_type=badge_feed_dialog
SN: Why Seychelles?
YR: The reason I visited Seychelles is because I was already in Africa and I extremely love white sandy beaches and beautiful places that are not hit by tourists extensively and that are still unique and kept hidden. I saw pictures of your country and I simply had to make it a goal to go over there right after Zanzibar. I could not do Africa without passing through Seychelles… Once landed, I could not believe how friendly people are on the island. They will do anything to help you out and it is amazing. I even hitch hiked on the island and I have never done it so much as I did in Seychelles… People are so loving and so diverse. So many different backgrounds and it is amazing! The country is somewhere I would love to return to over and over again. The beaches are amazing and it is easy and safe to travel. I would recommend Seychelles to anyone but at the same time it is my secret place that I do not want people to go because it's a paradise!! I have never seen a jungle on a beautiful tropical island like that before and I've been to many.
SN: Where did you go next?
YR: After Seychelles I went back to my number one love, NYC… I'm here till September then I am heading home. I had to cancel my trip to Cuba because its hurricane season and I am very devastated about it. My next big trip is going to Patagonia and returning back to the Congo in Africa to complete a Volcano Trek that I had to cancel due to an injury I had with my knee the day before when I was visiting Gorillas in the DRC. I will also be going to Cuba and Seychelles (again) all in 2017 – HOPEFULLY.
Source : Seychelles NATION